Travel Info
Destination
Destination
Time Required
Price
Boarding Platform
Kumamoto City, central area of prefecture
Technopolis Center Entrance
Airport Limousine Bus
(Kyushu Sanko)
10min
¥160
#2
Mashiki IC Entrance
Airport Limousine Bus
(Kyushu Sanko)
15min
¥440
#2
Kumamoto Prefectural Office
Airport Limousine Bus
(Kyushu Sanko)
25min
¥600
#2
Suizenji Park
Airport Limousine Bus
(Kyushu Sanko)
30min
¥610
#2
Kumamoto Kotsu Center
Airport Limousine Bus
(Kyushu Sanko)
50min
¥730
#2
Kumamoto Station
Airport Limousine Bus
(Kyushu Sanko)
1hr
¥800
#2
Higo Ozu Station
Airport Liner
15min
Free
#1
Aso area
Aso Station
Express Yamabiko
(Kyushu Sanko / Oita Bus)
1hr
¥1,220
#3
Kurokawa Onsen
Kyushu Oudan Bus
(Kyushu Sanko)
2hr
¥2,000
#3
Takamori Chuo
Express Takamori
(Kyushu Sanko)
1hr
¥1,010
#3
Yatsushiro
Central Yatsushiro City
Super Banpeiyu
(Kamizono Kotsu)
1hr
¥1,800
#3
Amakusa
Matsushima
Airport Limousine Bus + Rapid Amakusa (Kyushu Sanko)
2:20hr~2:30hr
¥2,070
#2
Hondo Bus Center
Airport Limousine Bus + Rapid Amakusa(Kyushu Sanko)
3:10hr~3:30hr
¥2,720
#2
Miyazaki Prefecture
Takachiho Bus Center
Rapid Takachiho
(Kyushu Sanko /Miyakoh Bus)
2:10hr
¥2,200
#3
Nobeoka (via Takamori / Takachiho)
Rapid Takachiho
(Kyushu Sanko / Miyakoh Bus)
3:20hr
¥3,620
#3
Oita Prefecture
Oita (via Taketa Onsen)
Express Yamabiko
(Kyushu Sanko / Oita Bus)
3:30hr
¥3,360
#3
Yufuin (Oita Prefecture)
Kyushu Oudan Bus
(Kyushu Sanko)
3:30hr
¥3,700
#3
Beppu (Oita Prefecture)
Kyushu Oudan Bus
(Kyushu Sanko)
4:30hr
¥4,500
#3
※上表は画面に収まらない場合、左右にスライドしてご覧いただけます。
As of January 2015
*Click on the name of a bus to view its time schedule.
*Prices for Amakusa area are when transfer discount ticket is used.
*Required times are estimates. May vary based on traffic conditions, transfer times, etc.
Destination
Time Required
Distance
approximate
(R1.10)
Expressway Toll
(R1.10)
Kumamoto City, central area of prefecture
Torichosuji
40min
19.0km
¥5,060
Sakuramachi Bus Terminal
45min
21.0km
¥5,540
Kumamoto Station
45min
21.8km
¥5,700
Kumamoto Prefectural Office
30min
15.6km
¥4,180
Mashiki IC
15min
9.5km
¥2,660
Aso area
Aso summit
70min
50.0km
¥12,510
Kurokawa Onsen
90min
63.2km
¥15,390
Aso Station
50min
32.0km
¥8,340
Takamori
50min
40.0km
¥10,130
Takachiho
120min
83.0km
¥19,780
*From Takamori Station to Takachiho
60min
35.5km
¥9,120
Northern Kumamoto Prefecture
Kikuchi Onsen
40min
20.0km
¥5,300
Yamaga Onsen
70min
30.0km
¥7,780
Southern Kumamoto Prefecture, Kuma area
Central Yatsushiro City
60min
63.0km
¥15,310
¥1,170
※上表は画面に収まらない場合、左右にスライドしてご覧いただけます。
As of October 2019
Kumamoto City Taxi Association: 096-365-6633
*Prices may fluctuate based on traffic conditions.
Various Questions
Buses running in all directions are available from Kumamoto Airport. Click on the links for each bus for more information.
Limousine Bus Information
Tickets for Airport Limousine Buses headed to central Kumamoto City and for transfer discount tickets for Airport Limousine-Rapid Amakusa buses are available from the Bus Ticket Vending Machines.
Limousine Buses
Boarding Platform
#2
Inquiries
Kyushu Sanko Bus
Phone
096-325-0100
*Please visit the Kyushu Sanko Bus homepage for arrival and departure times at Kumamoto Airport and other details.
Airport Liner Information
Please call the following numbers for questions regarding the Airport Liner shuttle service
Higo-Ozu Area Taxi Group AIO (Ltd.) Oaso-Ozu Taxi
096-293-3355
Kumamoto Prefecture Planning and Promotion Department Transportation Policy Section Regional Transportation Group
096-333-2167
※上表は画面に収まらない場合、左右にスライドしてご覧いただけます。
Airport Liner Homepage
Visitors who wish to rent a car should visit the reception counter on the first floor of the domestic terminal.
Visitors who wish to return a rented car can do so and refill their gas tank here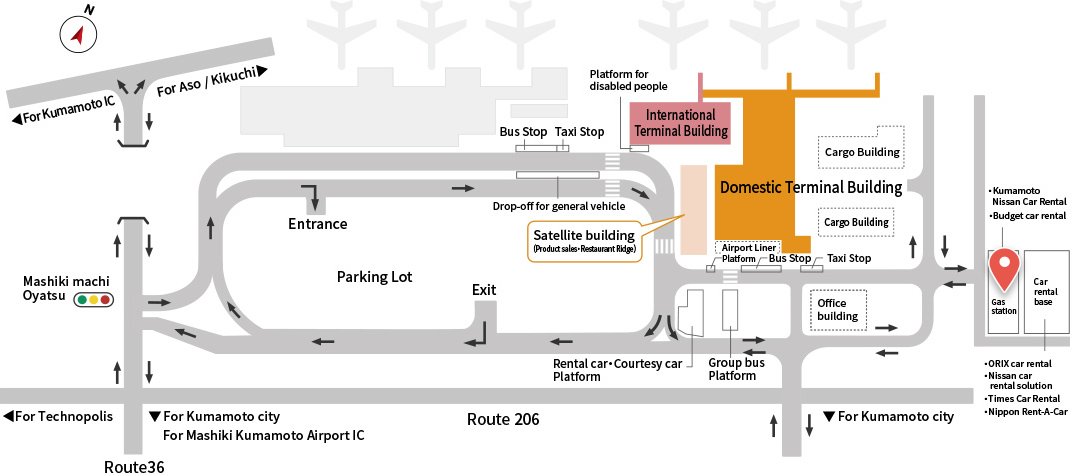 Kumamoto Airport Refueling Facility (Co.)
Business Hours:8:00 – 19:30, all year round
Phone: 096-232-3281